Credit: On Shot Photography
By Ahmad Khawaja
After much waiting and anticipation, training, preparation not to mention jetlag the biggest indoor cricket tournament of the year, the WICF Junior World Series 2018, finally got underway at the Action Indoor Sports Hornby Stadium in Christchurch, New Zealand earlier this evening.
Opening Ceremony
The opening ceremony took place at 4pm and was a showcase of New Zealand culture, which included a powhiri and several other performances from a local kapahaka group. Amongst them was a powerful, traditional maori haka. The performance was received very well by an appreciative crowd. You can watch the performance here:
ICNZ Cricket Executive and tournament director Mark Cini officially welcomed all the competing teams, with an extra warm reception for the English and Singaporean contingent, competing at their first ever Junior World Indoor Cricket tournament. The national anthems then played for each country.
WICF Vice-President and England delegate Duncan Norris extended his wishes to the teams and declared the tournament officially open.
You can watch the stream of the opening ceremony from the Indoor Cricket New Zealand Facebook Page at the following link:
Tournament starts with a blaze
Competition kicked off with simultaneous matches at 6pm on the latter two courts of the three-court centre. The South Africa Under-15 Boys kicked off their campaign against the England Under-15 Boys on Court 2 whilst on Court 3 it was the trans-tasman clash between the Australia and New Zealand Under-17 Girls' sides.
Match 1: South Africa Under-15 Boys 170 (3) def. England Under-15 Boys 111 (3) by 59 runs
The South Africa Under-15 Boys got their tournament underway with a 59-run win in a run-fest against England, taking three skins in the process. The Proteas piled up a mammoth 170 in their innings batting first, with all four partnerships making 34 or more. Armond Bodenstein top-scored with 28 off 11 balls, whilst Byron Giraudeaux and Dylan Thomson putting on 49 in the closing pair. The England bowlers struggled for fluency with the ball in their debut World Junior Indoor outing, as Cameron Jones was the only bowler to take a wicket throughout the entire innings.
The three lions did not take it lying down however in response, with Mitchell Wagstaff and Matthew Gallear taking 13 off the first over, before winning the skin in the final over, eventually posting 36. Wagstaff top-scored with 26 and they continued to fight, with their second pair notching up 37 to leave them on 73 after eight overs. South Africa kept them quiet within the context of the game thereafter as they finished up on 111. Connor Foley looked especially impressive in his spell of 1 for 6, bowling with some good pace and bounce.
Match 2: Australia Under-17 Girls 101 (3) def. New Zealand Under-17 Girls 87 (1) by 14 runs
The battle of the trans-tasman rivals seemed an appropriate way to commence the competition and in front of a very vocal crowd on court 3 the match did not disappoint.
Australia batted first and looked very assertive in their shot-making as the Kiwis bowled too full or too loose outside off in the earlier stages. It allowed Australia to get away quickly, as they dropped only three wickets in their first 12 overs, scoring 81 runs. Alyssa Bowden, Briana Perry and Fran Jonas however took three wickets in the last pair to restrict Australia to 101. There was some consistency with all pairs scoring 20 or above, as Katrina Dixon top-scored with 21. Kate Fenton took 2 for 3.
After Australia took the first skin, Kate Fenton and Bowden (33), and Jonas and Amie Hucker (31) brought New Zealand back into the match and had the scores dead-locked after three pairs by comparison at 81. However Sarah Turner claimed a run-out and third-ball in her over and Angelina Genford took two more to put the match out of reach by the second over of the last pair, to give the Australians their first win.
Match 3: South Africa Under-17 Girls 128 (3) def. England Under-17 Girls 111 (1) by 17 runs
The South Africa Girls picked up where their Under-15 Boys left off, as they put up 128 batting first against England. Kayla Ferreira, usually paired with twin Monique, top-scored with 27 in the closing pair, as her and Amber-Leigh Botha put 44 to finish the innings. All pairs scored at least 25 or more. England struggled for consistency in their first fixture, going wicketless through the 16 over innings.
Just like the boys, they also came out firing with the bat, as Chloe Rudkin and Lucy Weston hammered 40 runs to open the innings and put the pressure right back on the Proteas. Jayde Erin-Symon's 3 for -7 through the middle however slowed the pace of the innings down and brought the match back in South Africa's favour. Whilst Elizabeth Haward and Jessica Lapworth put on an impressive 39 to finish, it wasn't enough as South Africa ran out 17-run winners.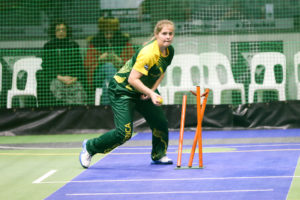 Credit: On Shot Photography
Part 1 of 2 – here are the Ferreira's – twin sisters Monique and Kayla talking to Ahmad Khawaja after their win tonight:
Part 2 of 2:
Match 4: New Zealand Under-15 Boys 100 (2) def. Australia Under-15 Boys 93 (2) by 7 runs
The second New Zealand/Australia clash of the night brought a thrilling finish as New Zealand held on to record a seven-run win. New Zealand batted first and immediately put the pressure on Australia, as Toby Findlay and Liam McCarthy put on 33 for the first pair. Although Australia took three wickets to third-ball plays, they couldn't find the right way to stem the runs, taking a total of four dismissals as New Zealand lifted themselves to a very competitive total of 100.
Reiley Mark and Jordan Hesline picked up where they left for their Victorian side, excelling in putting on 35 for the first wicket, and being able to find the side nets frequently. New Zealand struck back taking four wickets through the next eight overs, with Liam McCarthy taking 1 for 5. It left Sam Wetering and Declan McComb 30 runs to score in the last pair to win.  A big third over of 15 runs saw them needing eight runs off the last, and three off the last ball to win. McComb went to cut the delivery off Samuel Pawson however it caught high off the bat and off the net to the cover fielder to spark off wild celebrations in the New Zealand camp. They were perhaps a touch fortunate in hindsight, having bowled a huge 28 runs in extras to Australia's 12. But they took the spoils and still deservedly celebrated their win.
Here is THAT finish:
Looking ahead to Day 2
There are no less than 17 matches tomorrow including the debut of Singapore and the Under-17 Boys clash between New Zealand and Australia so stay tuned for further updates on this page as day 2 progresses tomorrow at the WICF Junior World Series in Christchurch.