Ahmad Khawaja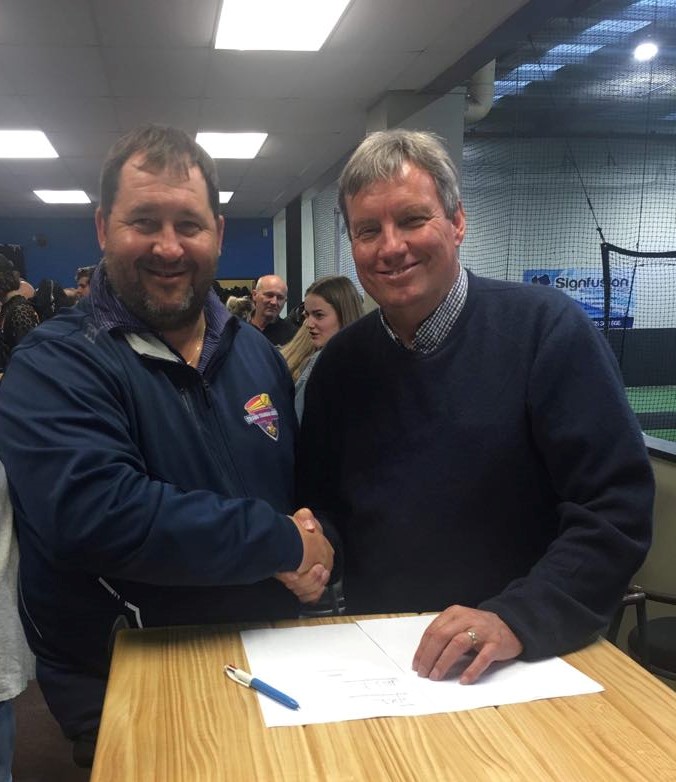 The standing ovation in Palmerston North last Saturday night said it all. New Zealand Cricket (NZC) and Indoor Cricket New Zealand (ICNZ) officially signed a partnership agreement last week, featuring, among other things,  formal recognition of Indoor Cricket New Zealand as the governing body for the sport in New Zealand, but also importantly as part of the New Zealand Cricket family.
The agreement has been driven by discussions between the Boards of both organisations over the last few months, which provided an opportunity to collaborate and derive the terms of a partnership. Both organisations wish to establish and progressively build a strong relationship and see this agreement as the start of that strategic partnership process. 
The initial focus of the agreement will centre on participation, to foster growth in relationships and interactions both regionally and locally between NZC and ICNZ members, whilst NZC will begin to promote the sport of indoor cricket in New Zealand. The agreement will continue on an ongoing basis.
The agreement is seen as a significant step forward for indoor cricket in New Zealand, which does not have a formal affiliation with its outdoor counterpart. Martin Snedden, Board Member at NZC, and Tony Watkins, Chairman of ICNZ, met during the ICNZ Senior Provincial Championships last weekend in Palmerston North to sign the agreement. 
"One of the things ICNZ has been focusing on for the last 10 years has been involving ourselves with outdoor cricket, and I'm proud that the Board has had some foresight in this respect, and I'm proud of what we have achieved here today", said Watkins. 
Snedden, who attended the finals of the above mentioned tournament, was very complimentary of the indoor format of the game and the product that was on show during this time. 
"I think indoor cricket is a fantastic game; I've always felt that. And one of the reasons why is that it's just constant action. In this day and age when we are trying to figure out how to make cricket remain relevant to New Zealanders, both male and female, just that total element of action for the entire time you are out there is so important to satisfying people", said Snedden.
"One of the key elements of the partnership agreement says we are both part of the cricket family. There is no difference. When I look at the games I watched today, I think, this is skillful, competitive stuff; it's exactly what I love about cricket. We're doing the same stuff, and that's the way we should regard each other, as part of the same family, and we need to keep building on that. There are already good relationships in place; the footprint of the indoor centres around New Zealand are not dissimilar from those of outdoor cricket".
"NZC's desire is to help indoor cricket get stronger and stronger going forward, because that's what we need for cricket. It was spine-tingling to see the ovation for a partnership agreement between NZC and ICNZ". 
Indoor cricket is a unique variation of the traditional game, which sees teams of eight players contest 16-over matches in sets of four-over pairs, where every bowler is required to bowl two overs each. To this extent, within the confines of an indoor net, every player must bat, bowl and field in a short period of time to a high level of intensity. 
The format has become an ultra-competitive sport in a number of different countries including New Zealand since its inception in the late 1970s. The recent Senior Provincial Championships saw teams enter Men's and Women's teams at Under-22 and Premier level from all regions across New Zealand including Canterbury, Auckland, Central Districts, Southern Districts, Northern Districts and Wellington whilst the recent Junior Provincial Championships featured teams in grades covering Under-17, Under-15 and Under-13 Boys and Girls teams from the same regions.
There are over 10,000 players participating in indoor cricket in indoor sports centres across New Zealand, with a significant uptake by females. This has included current White Ferns Amy Satterthwaite and Lea Tahuhu (both former New Zealand Open Women's representatives, who recently coached the Canterbury Premier Women's team) whilst Jesse Ryder, Chris Harris, Scott Styris, Andre Adams and Iain O'Brien are among those who have represented the New Zealand Open Men's team in the format.
Enquiries:
media@indoorcricketnz.org.nz